(Last update: June 11, 2019)
According to what you'll find on the Internet, the Islamic Ramadan is a Holy month. It's a 30-day opportunity for each practicing Muslim to strengthen his personal commitment to his religion.
For the devout Muslim, this means fasting, prayer and religious reflection. Ramadan also means it's time to participate in something called, 'community'--turning to fellow Muslims to do charitable and 'good' deeds.
No doubt, such a description of Ramadan helps to explain why so many call Islam, 'the religion of peace' (the word, 'Islam', is supposed to mean, 'peace'). Surely, such religious practices as listed above are decidedly peaceful, are they not?
Like Jewish holidays, the Islamic Ramadan follows the lunar calendar, not the Gregorian calendar. That calendar means that
Ramadan 2018 was May 16-June 14. For 2019, the dates are May 5-June 4. Ramadan 2020 will be April 24-May 23.
Depending upon where a Muslim lives, Ramadan is often accompanied by specific cultural practices. These might include the stringing of lanterns in a city square, special Ramadan greetings and specialty food items.
But while such peaceful and friendly practices might be limited to one's specific location, there appears to be one Ramadan practice that doesn't appear geographically limited. This broader Ramadan 'practice' is called, terror attacks.
So far as I can see, Ramadan doesn't appear to have any official, religious 'it's time to kill!' label associated with it. But it's certainly gotten that concept attached to it.
You can thank the Islamic extremist for that. These crazies love blood, especially someone else's blood. They use murder to promote their violent ideology. They use murder and mayhem to make us all sit up and take notice.
You've noticed that? Ever since the non-Ramadan 9/11 attacks in America, the West has gotten a painful schooling in Islamic terror in general, and in Ramadan massacres in particular. This year is no different.
Yesterday, May 27, 2019, was the end of the 22nd day of Ramadan 2019. Today, thanks to a website called, thereligionofpeace, you can now keep track of Islam's Ramadan. The numbers you will now see are for just the first 22 days of Ramadan: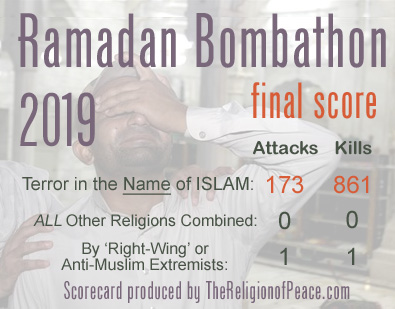 from
here
It's probably a 'stretch' to equate 'Islam' with 'terror'. Indeed, I still tend to believe people when they say Islam itself is not a religion of terror violence (though I do have questions about the moral disconnect between the 'official' (peaceful) and the 'unofficial' (violent) natures of Islam). I tend to believe people who say that Islamic terror is committed only by a small fraction of the world's Muslims.
That's reassuring. But then, what's a "small fraction"? Would one-one-hundredth of one percent be small enough to be a "small fraction"? I'd think so, wouldn't you?
But that's still a problem. You see, there are at least 1.8 billion Muslims worldwide, probably more. So if that "small fraction" is indeed just one-one-hundredth of one percent, we're still looking at 180,000 terror-committed Muslims out there at any one moment looking for someone to murder. That is not so reassuring.
Okay, so maybe a "small fraction" refers only one-one-thousandth of one percent who are murderous. That's still 18,000 murderers on the prowl.
Feel reassured by that number? I don't.
This is why I believe that, with some 35,000 deadly terror attacks since 9-11-01 (here), and more than 120,000 victims (here), we do have to ask some questions about this 'religion of peace'. The questions only just begin with, if Islam is the peaceful religion (right now, it's the only religion so self-designated, which seems to make it the religion of peace, doesn't it?), why are any Muslims killing people in these numbers; I mean, you don't see Christians or atheists or Buddhists killing so many people in the name of their beliefs, do you?
If, as some argue, it's ISIS which is primarily responsible for this murderous Ramadan reality, where is the Islamic outrage? Where is the Islamic outcry? Where are calls of "enough!" from Islamic leaders?
If Islamic leaders won't speak out, perhaps we should speak out.
Maybe, when it comes to Islam, these killings should prompt us to hit the pause button. Maybe we should tell Islam, prove you are peaceful. Show us how you stop the violence.
While we're doing that, perhaps we should also ask Islam's leaders to explain the apparent contradiction between the claim of Islam (peaceful) and its reality (bloody terror).
If Islam won't defend its peacefulness or demand peacefulness from its followers, what is Islam?